If like me you travel a lot for work you will no doubt have the unfortunate experience of slow hotel Wi-Fi, and quite often events where the Wi-Fi just does not work at all. As a tech blogger, this happens pretty much every time, I go to MWC or IFA. You have a hotel full of tech enthusiasts and journalists all trying to access the Wi-Fi at the hotel or event, more often than not making it useless.
The TP-Link M7450 mobile router should eliminate most of these issues and is designed to allow you to get multiple devices online wherever you are and provide plenty of battery to keep you going.
Priced at around ₤ 130 on Amazon this sits just below the top of the range of their devices. It is capable of connecting at speeds of o 300 Mbps download and 50 Mbps upload over 4G, it will also connect via 3G and 2G if needed.
Where To Buy TP Link M7450 Router:
$99.00
$166.00
as of June 24, 2022 11:38 pm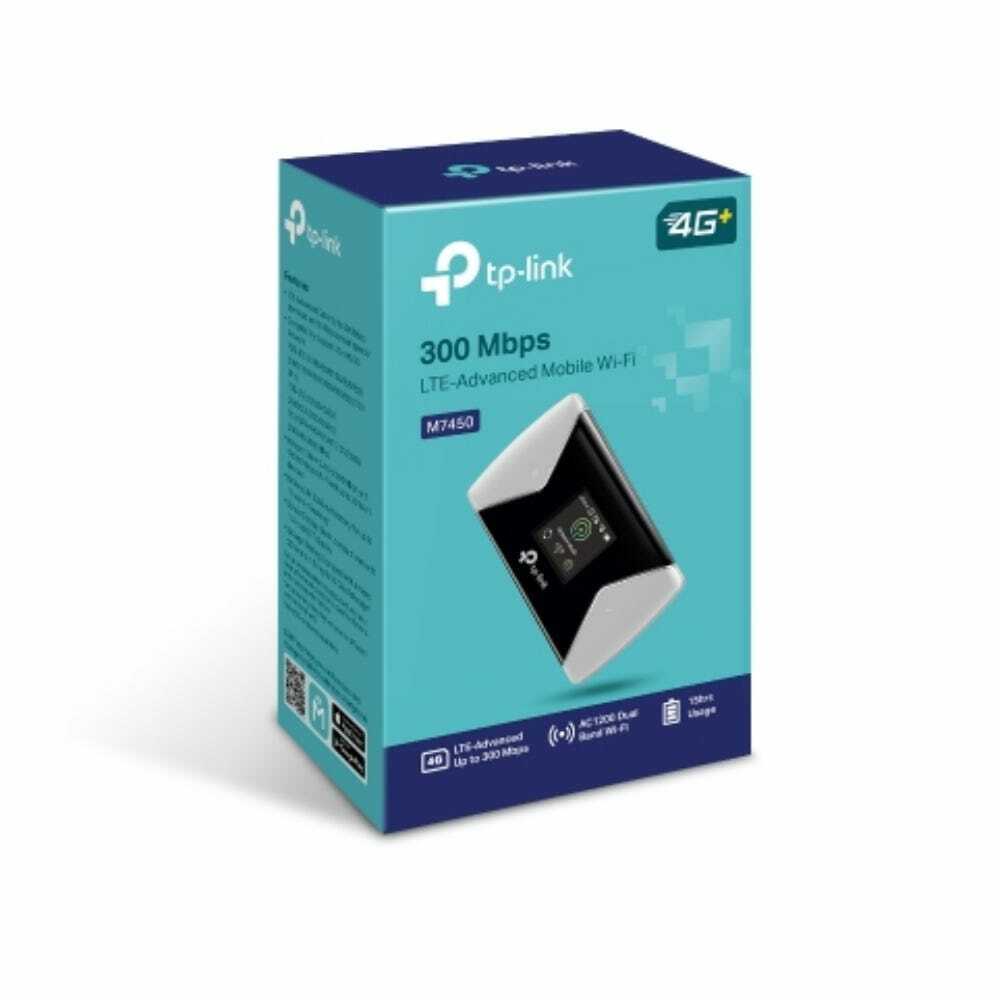 TP-link M7450 Appearance and Package
Like other TP-link 4g lte pocket WiFi hotspot, the TP-link M7450 mobile WiFi is very small and can be easily put in hand or pocket. The plastic used at the front is slightly reflective, but fortunately, it only occupies part of the surface of the device. Under the battery, there are slots for a microSIM card and microSD card.
TP-Link M7450 Mobile WiFi Review: Feature
TP-Link M7450 is primarily a device for global use. It has a built-in LTE cat.6 modem with theoretical speeds of 300 Mbps for download and 50 Mbps for upload. We used the term "theoretical" because everything still depends upon the operator's mobile networks. TP-Link M7450 mobile WiFi supports multi-mode networks, include FDD-LTE (B1/B3/B7/ B8/B20), TDD-LTE (B38/B40/B41), as well as DC-HSPA+/ HSPA/UMTS and even EDGE/GPRS/GSM with frequencies: 850/900/1800/ 1900MHz.
As an access point, it allows you to connect up to 32 devices, provided you use the 5 GHz band. We did not have the possibility to check if the device really could connect with the number of devices connected to it. We had 6 devices (3 laptops, smartwatch, 2 telephones) and all were connected without a problem at the same time.
TP-Link M7450 Mobile WiFi Review: Battery
The M7450 contains a 3,000 mAh battery. It has dual-band Wi-Fi which is selectable, the 2.4 GHz channel is capable of 300 Mbps while the 5 GHz can do 867 Mbps with up to 32 Wi-Fi devices.
The manufacturer declares that the TP-link M7450 is able to work on a 3000 mAh battery for 15 hours at full load. In this way, we used the device for three days, leaving it in standby mode for the night. If you would take a business trip with TP-link M7450, you can actually forget about the charger.
TP-Link M7450 Mobile WiFi Review: Software
The manufacturer recommends TP-Link MiFi application for easier operation through a smartphone. This one is available for download from the Google Play store. If you do not need to look for it, you can scan the QR code on your device. The application itself is quite simple and friendly to use.
With its help, you gain access to information about the status of the device, the amount of linked users, transfer statistics or shared microSD memory cards. With M7450, you can share the content of the memory card between users of the local network.
TP-Link M7450 Mobile WiFi Review: Overall
This is a great little 4G travel router, it works well, is very simple to use and reliable. Apart from the minor security issue, I have nothing significant to fault about it.
Most importantly it appears to be very competitively priced, both the Netgear and Huawei alternatives cost more and have a lower advertised battery performance.
The one thing I would consider would be how much you need a 300Mbps router, I am uncertain if I have ever achieved close to that speed on 4G, though I do live in Blackpool, so you could save around 50% by opting for the M7350 150Mbps model which currently costs ₤ 64.99.
Where To Buy TP Link M7450 Router:
$99.00
$166.00
as of June 24, 2022 11:38 pm