TP Link Archer VR2800 AC2800 Wireless MU-MIMO VDSL/ADSL Modem Router
TP Link Archer VR2800 Router is powered by an industry-leading Broadcom 1GHz dual-core CPU with two co-processors to keep it running at peak performance. Broadcom makes the world's most widely used chipsets for DSL products, providing integrated solutions for more than 100 Internet Service Providers around the globe. Not only does this guarantee excellence, but compatibility with your ISP.
TP Link Archer VR2800 Router Feature:
The Quickest VDSL Modem Router— The Archer VR2800 works at 2167Mbps on 5GHz and 600Mbps on 2.4 GHz.
1GHz dual-core CPU— Broadcom 1GHz dual-core CPU with two co-processors keeps VR2800 working at peak performance.
TP-Link Tether App— TP-Link Tether app allows you set up and take care of your Archer VR2800 from any Android or iOS device.
Hot Sales TP-Link Router:
$79.99
as of May 18, 2022 6:29 am
$119.99
$149.99
as of May 18, 2022 6:29 am
$154.99
$199.99
as of May 18, 2022 6:29 am
$340.40
as of May 18, 2022 6:29 am
TP Link Archer VR2800 Router Spec:
Interface
3 10/100/1000Mbps RJ45 LAN Ports,
1 10/100/1000Mbps RJ45 WAN/LAN Port,
1 RJ11 Port,
2 USB 3.0
External Power Supply
12V/3.3A
IEEE Standards
IEEE 802.3, IEEE 802.3u, 802.3ab
VDSL2 Standards
TU G.993.2, Up to 17a profile (POTS)
ITU-T G.993.5 (G.vector)
ITU-T G.998.4 (G.INP)
ADSL Standards
Full-rate ANSI T1.413 Issue 2,
ITU-T G.992.1(G.DMT),
ITU-T G.992.2(G.Lite),
ITU-T G.994.1 (G.hs)
ADSL2 Standards
ITU-T G.992.3 (G.DMT.bis)
ADSL2+ Standards
ITU-T G.992.5
Antenna Type
4 external detachable dual band antennas (RP-SMA)
Wireless Standards
IEEE 802.11ac/n/a 5GHz, IEEE 802.11b/g/n 2.4GHz
Frequency
2.4GHz and 5GHz (Supports DFS)
Transmit Power
<20dBm (2.4GHz),
<23dBm (5GHz Band1 & Band2),
<30dBm (5GHz Band3)
Wireless Security
64/128-bit WEP,
WPA/WPA2,
WPA-PSK/WPA-PSK2 encryptions
Package Contents
AC2800 Wireless MU-MIMO VDSL/ADSL Modem Router Archer VR2800
External Splitter
RJ11 DSL Cable
RJ45 Ethernet Cable
Power Adapter
Quick Installation Guide
TP-Link Archer VR2800 Modem Router Review
TP Link Archer VR2800 Router Reviews:
Similar to many wireless routers, the VR2800 isn't much to look at; simply a fairly nondescript black slab with four antennae sticking up at the back, four Gigabit LAN ports and a VDSL2/ADSL2+ compatible socket, plus a couple of USB 3 sockets on the left-hand edge.
There's plenty going on inside, though, and when it comes to Wi-Fi specifications, this router is up with the most expensive models on the market.
Over 5GHz it's capable of delivering link speeds up to 2,167 Mbits/sec thanks to 4×4 stream MIMO and 1024QAM support. It's slightly less impressive over 2.4 GHz, but will still achieve up to 600Mbits/sec with compatible devices and adapters.
You won't can connect at those speeds with any single device, simply because no computer that I know of comes with 4×4 MIMO– most have 2×2 at best, with 3×3 adapters a rarity. However, connected to the 3×3 adapter in our test laptop– a previous-generation MacBook Pro 15in– performance was excellent.
In our close-range tests, we found throughput speeds reach 109MB/sec (872Mbits/sec) on the download, which is almost as fast as Gigabit Ethernet and the fastest close-range speed of any router we've tested.
In the long-range test in our kitchen location it wasn't rather as impressive, but still returned an average download speed of 10.8 MB/sec. Even though this is slower than mesh systems like Google Wifi or BT Whole Home Wi-Fi can delivering at range, it's still enough to deliver access to every single megabit of most people's broadband connections in most parts of the home– even with BT's fastest 74Mbits/sec broadband service installed.
USB transfer performance hit the high notes also, with sequential reads from our USB 3 thumbdrive reaching a heady 41.8 MB/sec, which is absolutely fine for casual file sharing and occasional backups.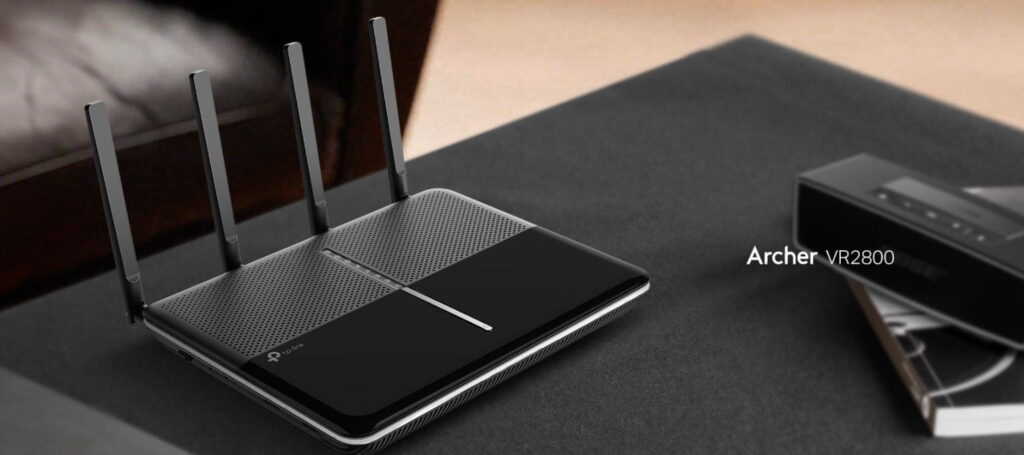 Final:
The TP-Link Archer VR2800 may not be able to offer coverage to match the ideal mesh Wi-Fi systems, but performance for a single router is unimpeachable and the price is reasonable considering the features on offer. If you plan to replace the router your ISP supplied you with, the VR2800's performance and selection of features make it a fine option. It wins a deserved Best Buy award.
Similar Products
$117.00
$129.99
as of May 18, 2022 6:29 am
$132.00
as of May 18, 2022 6:29 am
$179.99
as of May 18, 2022 6:29 am
$195.50
$229.99
as of May 18, 2022 6:29 am