TP Link Archer AX10 AX1500 Wi-Fi 6 Router Feature:
Wi-Fi 6 Technology— Archer AX10 comes armed with the latest wireless technology, Wi-Fi 6, for faster speeds, greater capacity, and decreased network congestion.
Next-Gen 1.5 Gbps Speeds— Archer AX10 dual-band router achieves even faster speeds up to 1.5 Gbps (1201 Mbps on 5 GHz band and 300 Mbps on 2.4 GHz band).
Connect Dozens of Devices— More simultaneous connections and reduced latency with OFDMA and MU-MIMO.
Triple-Core CPU— Instant response to all your network activity with a 1.5 GHz triple-core CPU.
Broader Coverage— 4 Antennas and Beamforming technology focus signal towards individual clients for broader coverage.
Full Gigabit Ports-– Take full advantage of broadband speeds up to 1 Gbps.
Easy Setup-– Finish your network upgrade in mins with Tether app.
Compatible with Alexa— Control your router through voice commands and make your life smarter and easier with Amazon Alexa.
Hot Sales TP-Link Router:
Last updated on May 18, 2022 4:24 am
TP Link Archer AX10 AX1500 Wi-Fi 6 Router Spec:
Standards

Wi-Fi 6




IEEE 802.11ax/ac/n/a 5 GHz




IEEE 802.11n/b/g 2.4 GHz

WiFi Speeds

AX1500




5 GHz: 1201 Mbps (802.11ax)




2.4 GHz: 300 Mbps (802.11n)

WiFi Range

3 Bedroom Houses




4× Fixed High-Performance Antennas




Multiple antennas form a signal-boosting array to cover more directions and large areasBeamforming




Concentrates wireless signal strength towards clients to expand WiFi range

WiFi Capacity

High




Dual-Band




Allocate devices to different bands for optimal performanceOFDMA




Simultaneously communicates with multiple Wi-Fi 6 clientsAirtime Fairness




Improves network efficiency by limiting excessive occupation

4 Streams




Connect your devices to more bandwidth

Processor

1.5 GHz Triple-Core CPU

Ethernet Ports

1× Gigabit WAN Port




4× Gigabit LAN Ports

WiFi Encryption

WPA




WPA2




WPA3




WPA/WPA2-Enterprise (802.1x)

Guest Network

1× 5 GHz Guest Network




1× 2.4 GHz Guest Network
TP Link Archer AX10 (AX1500) Wi-Fi 6 Router Review
TP Link Archer AX10 AX1500 Wi-Fi 6 Router Reviews:
The Archer AX10 is a four-stream dual-band AX1500 router capable of maximum data rates of up to 300Mbps on the 2.4 GHz band and up to 1,201 Mbps on the 5GHz band. It's powered by a 1.5 GHz tri-core processor, 256MB of RAM, and 16GB of flash memory, and it uses 802.11 ax technology including OFDMA (Orthogonal Frequency-Division Multiple Access), which allows multiple users to share the same channel for more efficient use of bandwidth, TWT (Target Wake Time) to help reduce client power consumption, MU-MIMO simultaneous data streaming, and direct-to-client signal beamforming. Nevertheless, it doesn't support 160MHz channel bandwidth or WPA3 encryption.
Like its other siblings, consisting of the Archer AX50 and Archer AX3000, TP Link Archer AX10 Router doesn't have a multi-gig port. So, depend on my Wi-Fi test method, its performance will cap at 1 Gbps, no matter what. In effect, that means the fact the router can't do 160 MHz won't matter much– its ceiling 1.2 Gbps Wi-Fi 6 bandwidth is about as fast as its LAN ports, anyway.
And the test results showed just that. My 2 × 2 Wi-Fi 6 clients got the sustained speed of some 730 Mbps and more than 630 Mbps at the short and long distances, respectively. The latter was faster than that of the Walmart-exclusive Archer AX3000.
In tests with Wi-Fi 5 clients, Archer AX10 Router did quite well, also. My 4 × 4 client averaged 650 Mbps at a close distance, and at 40 feet (12 m) away, my 3 × 3 client registered almost 580 Mbps. Once again, one of the two was faster than the higher-end Archer AX3000.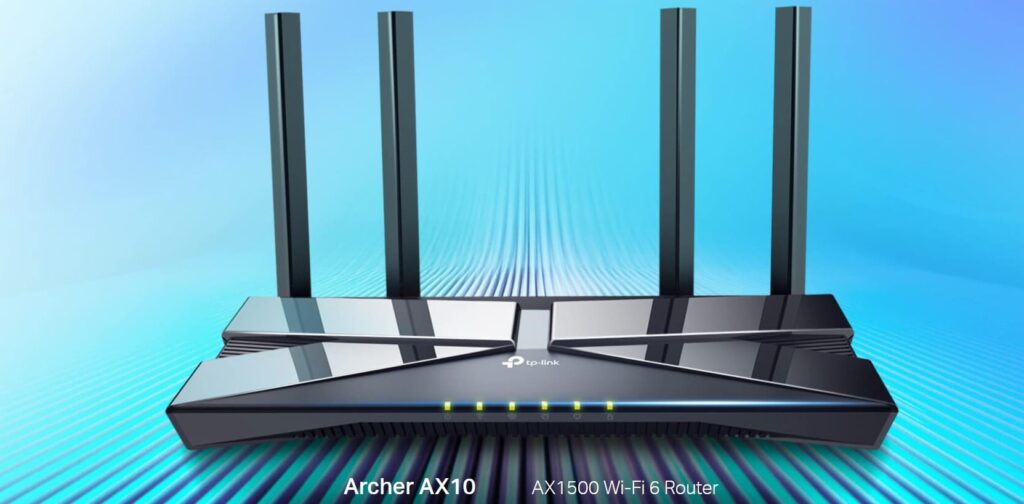 On the 2.4 GHz, which I consider a "backup" band because it's slow (compared to any standard's specs) where I live, the Archer AX10 did as if any other router, averaging some 110 Mbp for the close range and more than 50 Mbps for the long-range.
TP Link Archer AX10 Router passed my three-day stress test without any issue. It had the same coverage as the AX50, meaning if you have a home of around 1800 ft ² (167 m ²), place it in the middle, and you'll like to have good Wi-Fi signals everywhere.
Final:
The TP-Link Archer AX10 is one of the most affordable routers on the market. Period. It brings the cost of Wi-Fi 6 to below that of many Wi-Fi 5 routers. But it's not a cheap router. Instead, among those I've worked with, it's one of the best dependable.
Similar Products
Last updated on May 18, 2022 4:24 am