TP Link Archer MR600 4G+ Cat6 AC1200 Wireless Dual Band Gigabit Router
TP-Link is one of the most active companies among router manufacturers, and one of the most interesting solutions currently offered is Archer MR600, with the ability of offering speeds up to 300Mbps on 4G + network and which, among other things, boasts One Mesh technology from the same manufacturer.
TP Link Archer MR600 4G+ Cat6 AC1200 Router Feature:
TP-Link's First 4G+ Router— supports 4G+ Cat6 to boost the data speeds of up to 300 Mbps.
Full Gigabit Ports— supplies reliable wired connections for bandwidth-intensive devices like game consoles and STB.
Plug a SIM card and play— no configurations needed, compatibility of SIM cards in 100+ countries are assured by years of field tests.
Better Signal for Connections Everywhere— take pleasure in stable and efficient connections to every device because of the two external LTE antennas.
Wi-Fi router mode— plug an Ethernet cable into the LAN/WAN port for flexible access if you can't get a 4G connection.
Supports TP-Link OneMesh— co-works with TP-Link OneMesh products to create a flexible and cost-efficient Mesh network.
TP Link Archer MR600 4G+ Cat6 AC1200 Router Spec:
Interface

1 × 10/100/1000 Mbps LAN/WAN Port




3 × 10/100/1000 Mbps LAN Ports




1 × Micro SIM Card Slot

Antenna

2 × Detachable 4G LTE Antennas

Wireless Standards

IEEE 802.11a/n/ac 5 GHz, IEEE 802.11b/g/n 2.4 GHz

Frequency

2.4 GHz and 5 GHz

Signal Rate

300 Mbps at 2.4 GHz, 867 Mbps at 5 GHz

Transmit Power

< 20 dBm (2.4 GHz), < 23 dBm (5 GHz)

Wireless Security

64/128-bit WEP, WPA/WPA2, WPA-PSK/WPA2-PSK encryptions

Guest Network

2.4 GHz Guest Network x 1, 5 GHz Guest Network x 1

Package Contents

4G+ Cat6 AC1200 Wireless Dual Band Gigabit Router Archer MR600




Power Adapter




RJ45 Ethernet Cable




Quick Installation Guide
TP Link Archer MR600 4G+ Cat6 AC1200 Router Reviews:
TP Link Archer MR600 is a 4G Category 6 Router, which could achieve download speed up to 300Mbps. The design of TP Link Archer MR600 looks similar to the predecessors, but there is some difference. The Archer MR400 external antenna is non-removable, and now the Archer MR600 could do. And the original antenna with the MR600 could be unscrewed so that users can install outdoor antenna or change the antennas.
The Archer MR600 has a Micro SIM card slot on the back and will probably come with a format adapter. With support for 4G + Cat6 using Carrier Aggregation technology, you can maximize your 4G network at speeds up to 300 Mbps, plug in your SIM card and stream HD movies without interference or download files in a snap. With the TP Link Archer MR600, you can connect up to 64 devices at the same time without having to bother with the connection.
TP Link Archer MR600 offers 4 Gigabit Ethernet ports including a LAN/WAN port that will allow you to connect your router to your fixed network provider if necessary. In this configuration, you can designate your WAN connection as the primary connection and define your 3G/4G connection as a backup connection in case of a failover.
TP-Link Archer MR600 supports a highest speed of 300 Mbps in download and 50 Mbps in upload in 4G + Cat6, able to make the most of the speed offered by the main telephony operators. As for WiFi, this type of connection simultaneously supports 2.4 GHz and 5 GHz frequencies, offering respectively a maximum of 300 Mbps and 867 Mbps, excellent numbers by virtue of the context for which this router is designed: home, small shops or not very large offices.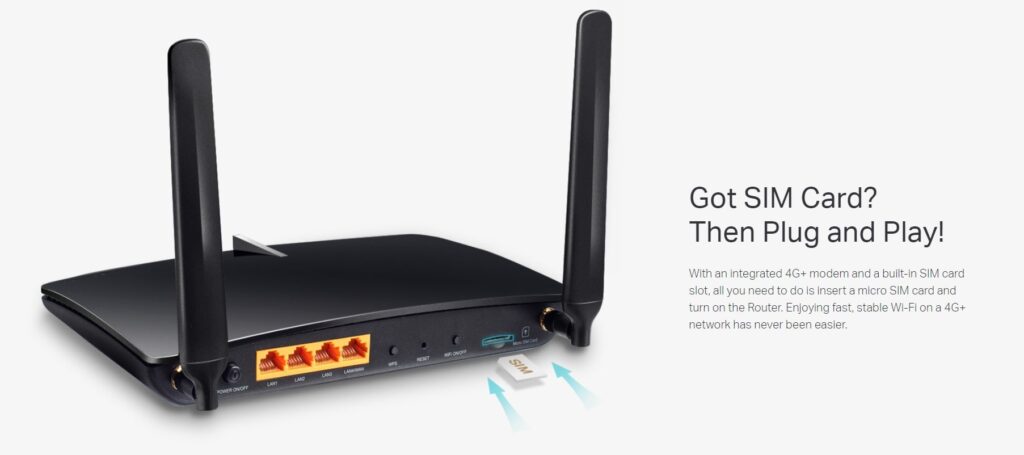 The multiple LAN ports speak for themselves. All Gigabit architecture, they allow much faster direct internet connectivity of up to 3-4 devices (relying on WAN/LAN use) at the same time. You can even link a larger network switch and then extend the connectivity even further to those devices. The only real downside of this device in the physical sense is the lack of an internal battery. This is not wholly necessary, but its inclusion would have made this a truly unbeatable mobile broadband router in the market in 2022.
Final:
While testing the Archer, we were able to get above 170 Mbps which is my internet speed right now.On 4G however we weren't able to explore the full advertised 4G speeds, which again depends on the carrier. The line speed is advertised as 866.7 Mbps however we tested this out as we did in our Deco review. Our test displayed that the TP Link Archer MR600's speed was 1200 Mbps write & 4100 Mbps read. Much higher than expected however these results are consistent with the Deco we reviewed earlier.