TP Link Archer AX50 AX3000 Dual Band Gigabit Wi-Fi 6 Router
Featuring a 160 MHz bandwidth and 1024-QAM, TP Link Archer AX50 AX3000 Router delivers true Gigabit speeds of up to 3 Gbps. Take pleasure in faster streaming and gaming like never before. Powered by a powerful dual-core CPU, this full-featured Gigabit Wi-Fi 6 router allows numerous bandwidth-intensive tasks to run smoothly at the same time.
TP Link Archer AX50 AX3000 Wi-Fi 6 Router Feature:
Next-Gen Gigabit Wi-Fi 6 Speed— 2402 Mbps on 5 GHz and 574 Mbps on 2.4 GHz band make certain smoother streaming and faster downloads.
Connect More Devices— OFDMA technology increases capacity by 4 times to make it possible for simultaneous transmission to more devices.
Ultra-Low Latency— Up to 75% reduction in latency enables more responsive gaming and video chatting.
Expanded Wi-Fi Coverage— Four high-gain external antennas and Beamforming technology combine to extend strong, reliable Wi-Fi throughout your home.
Enhanced Security— More safe and trusted Wi-Fi with TP-Link HomeCare ™.
Improved Battery Life— Target Wake Time helps your devices to communicate more while consuming less power.
Compatible with Alexa— Control your router through voice commands and ensure your life smarter and easier with Amazon Alexa.
Hot Sales TP-Link Router:
Last updated on May 17, 2022 1:14 pm
TP Link Archer AX50 AX3000 Wi-Fi 6 Router Spec:
Standards

Wi-Fi 6




IEEE 802.11ax/ac/n/a 5 GHz




IEEE 802.11ax/n/b/g 2.4 GHz

WiFi Speeds

AX3000




5 GHz: 2402 Mbps (802.11ax, HE160)




2.4 GHz: 574 Mbps (802.11ax)

WiFi Range

4× Fixed High-Performance Antennas




Multiple antennas form a signal-boosting array to cover more directions and large areasBeamforming




Concentrates wireless signal strength towards clients to expand WiFi rangeHigh-Power FEM




Improves transmission power to strengthen signal coverage

WiFi Capacity

Dual-Band




Allocate devices to different bands for optimal performanceOFDMA




Simultaneously communicates with multiple Wi-Fi 6 clientsAirtime Fairness




Improves network efficiency by limiting excessive occupation

DFS




Access an extra band to reduce congestion

4 Streams




Connect your devices to more bandwidth

Processor

Dual-Core CPU

USB Support

1× USB 3.0 Port

Supported Partition Formats:
NTFS, exFAT, HFS+, FAT32

Supported Functions:
Apple Time Machine
FTP Server
Media Server
Samba Server

Ethernet Ports

1× Gigabit WAN Port




4× Gigabit LAN PortsStatic Link Aggregation (LAG) available with 2× LAN ports

WiFi Encryption

WEP




WPA




WPA2




WPA/WPA2-Enterprise (802.1x)

Guest Network

1× 5 GHz Guest Network




1× 2.4 GHz Guest Network
TP Link Archer AX50 (AX3000) Wi-Fi 6 Router Review, Speed/Range Test, vs. AX10!
Buy TP Link Archer AX50 (AX3000): India: https://amzn.to/2KeTab9 US: https://amzn.to/38bVIP9 ⭐ Buy TP Link Archer AX10: ...
TP Link Archer AX50 AX3000 Wi-Fi 6 Router Reviews:
TP Link Archer AX50 Router is a dual-band AX3000 router efficient in reaching maximum (theoretical) speeds of up to 574Mbps on the 2.4 GHz band and as much as 2,402 Mbps of the 5GHz band. It's powered by a dual-core CPU and uses the latest Wi-Fi 6 (802.11 ax) technology, consisting of OFDMA packet transmissions, MU-MIMO simultaneous data streaming, direct-to-client beamforming, and Smart Connect (band steering). It doesn't sustain WPA3 encryption, nevertheless.
TP Link Archer AX50 Router turned in respectable performance on our throughput tests. Its speed of 109Mbps was faster than the D-Link DIR-LX1870 (100Mbps), the Linksys MR 7350 (78Mbps), and the D-Link DIR-X1560 (80Mbps). At a distance of 30 feet, the AX50 led the pack with a speed of 42Mbps.
The TP Link Archer AX50 Router's speed of 689Mbps on the 5GHz close-proximity test was again faster than the D-Link DIR LX-1870 (569Mbps) and the Linksys MR7350 (662Mbps), however slightly behind the D-Link DIR-X1560 (712Mbps). That said, its speed of 231Mbps on the 30-foot test took top honors.
To test file-transfer performance, we move a 1.5 GB folder containing a mix of music, video, photo, and document files between a USB drive and a wired desktop PC, both straight connected to the router, and time its read and write speeds. The TP Link Archer AX50 Router handled a write speed of 42MBps, which is decent, however not as fast as the Asus RT-AX86U (52 MBps) or the Linksys MR-7350 (74MBps). On the read test, TP Link Archer AX50 Router router garnered a faster 44MBps, but that still couldn't go with the RT-AX86U (66MBps) or the MR-7350 (80Mbps).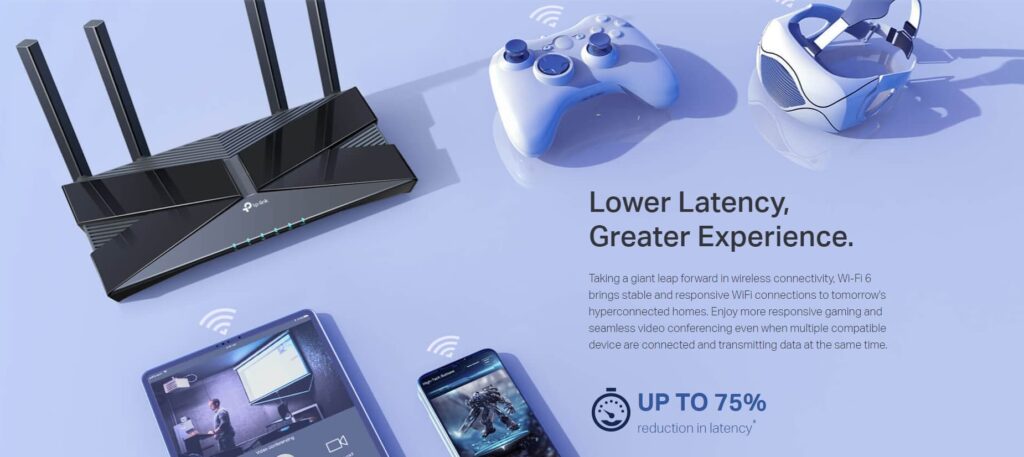 We use an Ekahau Sidekick Wi-Fi diagnostic device and Ekahau's Survey mobile app to check router signal strength. This combination generates heat maps that illustrate the router's 2.4 GHz and 5GHz signal strength throughout our test home. TP Link Archer AX50 Router delivered a strong 2.4 GHz signal throughout the majority of our test home, but the signal became slightly weaker in the far corners of the house and garage. The router's 5GHz radio delivered better range, in that the signal remained relatively strong throughout the entire house.
Final:
The TP-Link Archer AX50 is an affordable midrange Wi-Fi 6 router that delivers speedy throughput and comes with lifetime malware protection and parental controls.
SIMILAR PRODUCTS
Last updated on May 17, 2022 1:14 pm