TP Link Archer A7 AC1750 Wireless Dual Band Gigabit Router
TP Link Archer A7 is a fast 802.11 ac router with simultaneous dual band Wi-Fi. The 5 GHz band reaches 1300 Mbps which is ideal for bandwidth intensive tasks such as online gaming or HD videos streaming while simple tasks as if sending emails or web browsing can be dealt with by the 2.4 GHz band.
TP Link Archer A7 Router Feature:
Supports 802.11 ac standard – 3 times faster than wireless N speeds
Simultaneous 2.4 GHz 450 Mbps and 5GHz 1300 Mbps links for 1.75 Gbps of total available bandwidth
USB Port – easily shares files & media with networked devices or remotely through FTP server
Guest Network Access – offers secure Wi-Fi access for guests sharing your home or office network
Easy setup and control with Tether App
Hot Sales TP-Link Router:
Last updated on May 19, 2022 6:53 pm
TP Link Archer A7 Router Spec:
Standards

Wi-Fi 5




IEEE 802.11ac/n/a 5 GHz




IEEE 802.11n/b/g 2.4 GHz

WiFi Speeds

AC1750




5 GHz: 1300 Mbps (802.11ac)




2.4 GHz: 450 Mbps (802.11n)

WiFi Range

3 Bedroom Houses




3× Fixed High-Performance Antennas




Multiple antennas form a signal-boosting array to cover more directions and large areas

WiFi Capacity

Medium




Dual-Band




Allocate devices to different bands for optimal performance

Processor

Qualcomm CPU

Ethernet Ports

1× Gigabit WAN Port




4× Gigabit LAN Ports

WiFi Encryption

WPA




WPA2




WPA/WPA2-Enterprise (802.1x)

Guest Network

1× 5 GHz Guest Network




1× 2.4 GHz Guest Network

Package Contents

Wi-Fi Router Archer A7




Power Adapter




RJ45 Ethernet Cable




Quick Installation Guide

WiFi Transmission Power

CE:




<20dBm(2.4GHz)




<23dBm(5GHz)




FCC:




<30dBm
The Best-Selling Wireless Router on Amazon- TP-Link Archer A7
TP Link Archer A7 Router Review:
Using several of the latest speed-boosting techniques, such as advanced beamforming and IPTV streaming, the TP Link Archer A7 balances price and performance. Using Ixia's ixChariot software at our Utah test facility to simulate a busy network, the router was a step behind the best, but it should be more than enough in a small house or apartment.
The Archer A7's top speed of 647.4 Mbps was achieved 5 feet from the client, which blows away the 382.4 Mbps that the Netgear R6220 router was capable of at the same distance. The Archer A7's throughput is between the TP-Link Archer C2300's phenomenal 963.6 Mbps and the Asus Blue Cave's mediocre 439.1 Mbps at the same distance.
This throughput fell off to 623.5 Mbps, 471.2 Mbps and 347.7 Mbps at 15 feet, 50 feet and 100 feet, specifically, putting it well behind the Archer C2300's 682.3 Mbps, 913.8 Mbps and 613.2 Mbps at the same respective distances. Still, TP Link Archer A7 beat the Blue Cave router at 15 and 50 feet with 425.6 Mbps and 376.7 Mbps available at those respective distances. At 100 feet, the Blue Cave sprinted ahead with 398.8 Mbps.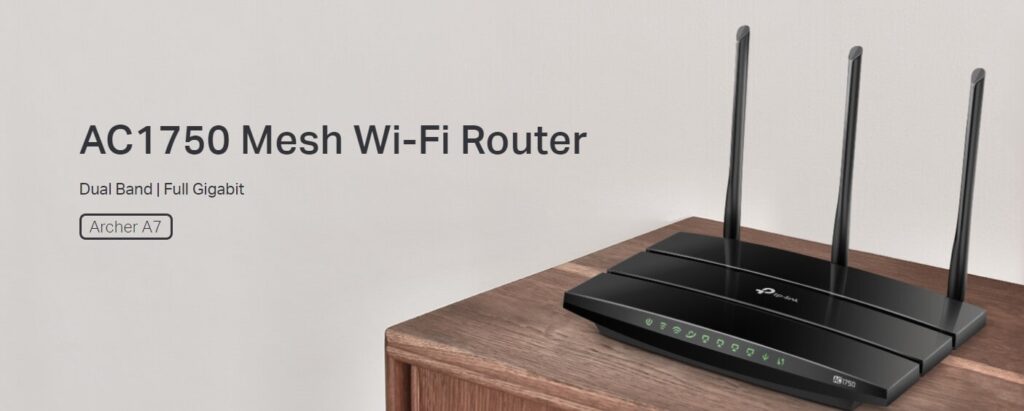 At the lab's terminal distance of 150 feet, the Archer A7 delivered 347.5 Mbps versus 342.5 Mbps for the Archer C2300, but the Blue Cave was the long-distance champ at 437.2 Mbps.
In our real-world testing, TP Link Archer  A7 lagged the Archer C2300 at pushing the signal from room to room. As an example, it trailed the Archer C2300 and Blue Cave at pushing a strong signal via a metal- or soundboard-covered wall. When the signal needed to go up a floor and over 35 feet, the Archer A7 delivered 480.0 Mbps. By compare, the Archer C2300 managed to deliver 629.8 Mbps for a 23% advantage, while the Blue Cave was out of the running at 132.3 Mbps.
The Archer A7 fell short of filling my older 3,500-square-foot home with Wi-Fi, leaving it with several dead zones. Using my iPad Pro, it had a range of 80 feet, well short of the Netgear R6220's 125-foot range. Still, it should be enough for a small to mid-size home.
Final:
For those looking to fill a larger home with top-speed Wi-Fi, the ideal bet may be to stick with the better-performing but more expensive TP-Link Archer C2300. For those in an apartment or small house, nevertheless, the TP Link Archer A7 is a winner.
Similar Products
Last updated on May 19, 2022 6:53 pm