TP Link M7350 Mobile Wi-Fi Feature:
4G LTE supported with as high as 150 Mbps download and 50 Mbps upload speeds
Supports as many as 10 devices simultaneously
All useful info at a glance with screen display
2000 mAh battery for as long as 8 hours of working
Equipped with a micro SD card slot for up to 32 GB of optional storage
TP Link M7350 Mobile Wi-Fi Spec:
Interface

1 micro USB port for power supply




SIM card slot




Micro SD card slot

Power Supply

Internal 2000mAh Rechargeable Battery

Network Type

4G: FDD-LTE Cat4 (800/900/1800/2100/2600MHz)




3G: DC-HSPA+/HSPA/UMTS (900/2100MHz)




2G: EDGE/GPRS/GSM (850/900/1800/1900MHz)

Wireless Standards

IEEE 802.11b, IEEE 802.11g, IEEE 802.11n

Frequency

2.4GHz

Transmit Power

2.4G <20dbm

Wireless Security

Support WPA-PSK/WPA2-PSK, Black List, Enable/Disable SSID Broadcast

DHCP

DHCP server, DHCP Client List

Package Contents

4G LTE Mobile Wi-Fi M7350




Micro USB Cable




Micro to Standard SIM Card Adapter




Nano to Standard SIM Card Adapter




Quick Installation Guide




2000mAh Battery
TP Link M7350 Mobile Wi-Fi Reviews:
TP-LINK M7350 support LTE Cat4 as high as 150Mbps download speed. The performance is as what you want from a Cat4 LTE device. No issue on signal reception for me, it receive signal just fine like my other devices.
The wireless performance of this device is actually very good. As you can see, there are no big differences compared to a direct USB connection. The speedtest is done with a TP-LINK Archer T4U AC1200 Wireless Adapter.
No issue with wireless coverage as well, all devices in the same room can connect without any issue. The device does support wireless 5Ghz along with 2.4 Ghz, which is rather handy on locations where wireless 2.4 Ghz is congested. You can toggle between wireless 2.4 Ghz and 5Ghz through the small display quickly. The device supports a maximum of 15 clients linked at once.
TP-Link M7350 can use LTE in the frequency ranges to 800/900/1800/ 2100/2600 MHz. So it can be used not only in Europe but also in many other areas all over the world. The maximum speed over LTE is 150 Mbit/s for the downlink and 50 Mbit/s for the uplink (LTE Category 4). In the test, M7350 could run with a SIM card from Vodafone and reach up to 130 Mbit/s. And the reception quality is good, even at the location far from the base station.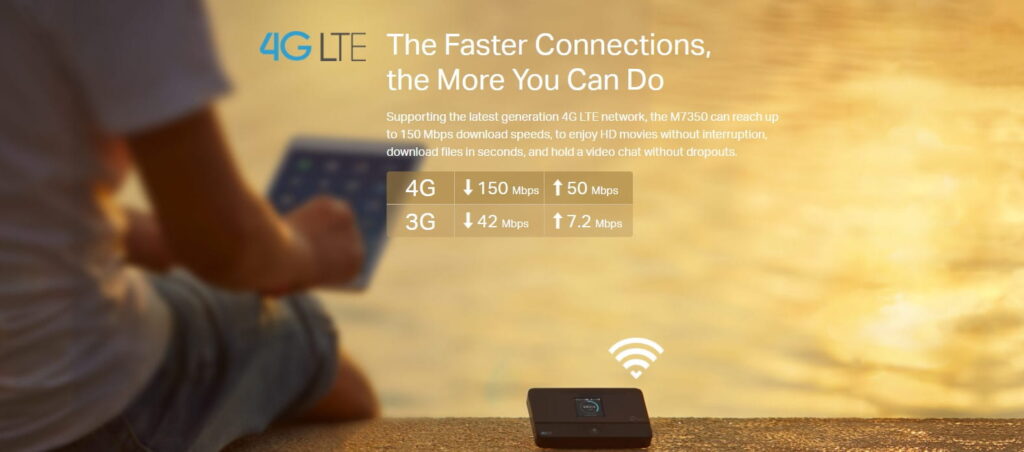 If the LTE network is not available, user can use the UMTS ang GSM network via TP-Link M7350. When connected with DC-HSPA+ in the UMTS network, M7350 could reach up to 42.2 Mbit/s for the downlink and 5.76 Mbit/s for the uplink. The most common frequency ranges around 900 to 2100 MHz are supported. In the test I have a telecom card of up to 26 Mbit/s could be achieved via UMTS, and I was about one kilometer far from the base station and the device had a good signal reception.
TP-LINK M7350 comes with a 2000mAh battery. The battery life of the device is alright. It lasts about 5 to 6 hours on my test. TP-LINK claims the battery should last for 10 hours on optimum condition but do note that battery life depends upon signal and device configuration.
Final:
The TP-LINK M7350 is a good MiFi device. It does what a MiFi should do. The network performance is good and the battery last long enough for daily usage; plus it is removable. I do hope it can run without battery. The web interface is one of the nicest I have ever used and it is very configurable and user friendly. I certainly suggest this if you are choosing a MiFi device right now.